SGBC Family News | July 24, 2020
Dear SGBC Brothers and Sisters,
Peace of God be with you! In view of the improvement of the COVID-19 pandemic, York Region also entered the final third phase of reopening today. Please note that starting next week, SGBC Family Newsletter will be changed from a weekly publication to be published on demand. The latest news of the church will be shared with you through the weekly bulletin and the worship service announcements.
Online 5-Day Bible Club
First SGBC 5-Day Bible Club will be held online on August 10-14 this year! The theme is "Inventor Fuzzywig's Workshop" led by Child Evangelism Fellowship. It will be held on Zoom for one hour at 4-5pm on Zoom on Monday to Friday. Children to join with a limit of 20 children. There are only a few spots left, please continue to invite children to join especially those who are non-believers. Please visit https://bit.ly/SGBC-5-Day-Club-Registration for details and registration. You are also welcome to contact Pastor Ada at [email protected] for any enquiry. Pray that this event will not only provide a platform for the children to know God and truth, but also an opportunity to reach out to their friends.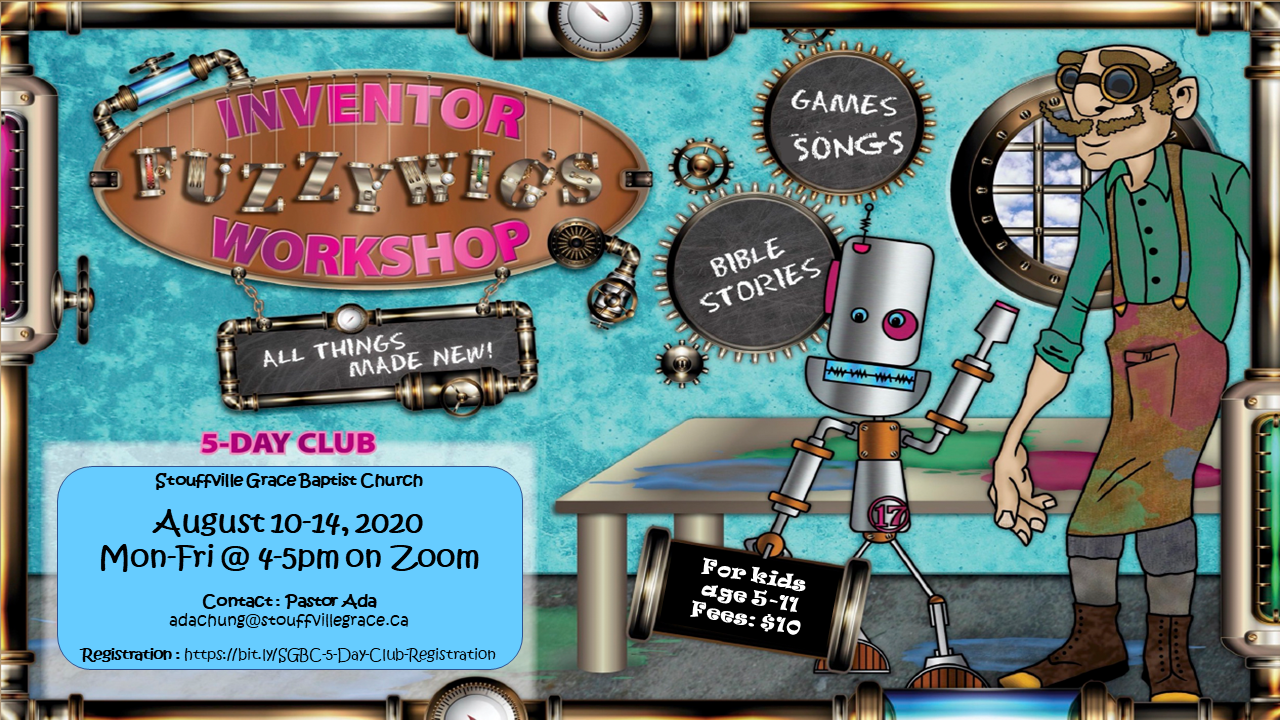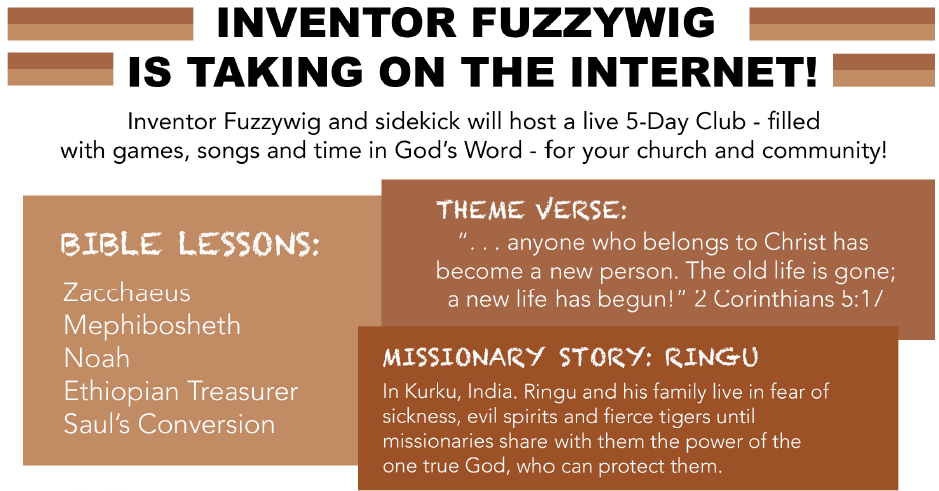 Observing the Lord's Supper
We will be observing the Lord's Supper together next Sunday August 2, please prepare your heart. Our team has already distributed Lord's Supper 2-in-1 packages at the end of May to those whose information has been registered with SGBC and those who are actively participating at SGBC. If you have not got them, please contact SGBC Office @ 647-547-3618 ([email protected]).
Baptism in August
While 6 brothers and sisters who were ready to be baptized at the baptism that was originally scheduled for Easter in April this year, it was cancelled due to the COVID-19 pandemic. Thanks be to God's grace! With the nice weather and warm season, we will arrange two baptisms for these six brothers and sisters in an outdoor private swimming pool: Four brothers and sisters from LMM on Sunday, August 16 at 2:30-3:30pm and two sisters from CSC on Saturday, August 23 at 2:30-3:30pm, both will be held at 25 Raeview Drive, Whitchurch-Stouffville, ON L4A 3G7. Brothers and sisters are welcome to attend. Please register with the church office in advance to make proper arrangements. Office Phone: (647) 547-3618 ([email protected]) For enquiries, please contact Pastor Karen: [email protected]
Tithes & Offering – Online "Giving & Support"
"Bring the full tithe into the storehouse, that there may be food in my house. And thereby put me to the test, says the Lord of hosts, if I will not open the windows of heaven for you and pour down for you a blessing until there is no more need." Malachi 3:10
Please visit the church website and click on "Online Offering" under "Give & Support" to make an offering: https://stouffvillegrace.ca/onlineoffering/
If you want to donate by mail, please visit the church website and click on "By Mail" under "Give & Support" to make an offering: https://stouffvillegrace.ca/bymail/
For enquiries, please contact Deacon Terrance Yeung ([email protected]) or Brother Richard Ji ([email protected]).
Rev. Hubert Wu
Senior Pastor, Stouffville Grace Baptist Church