SGBC Family News | May 1, 2020
Dear SGBC Brothers and Sisters,
Peace in the Lord be with you! This Sunday May 3 we worship God together and observe the Lord's Supper together online. Please prepare your body, mind and your heart. In late March, our pastoral and deacons' team has delivered the individual packages of the elements to those whose information has been registered with SGBC and those who are actively participating at SGBC. You should still have one left, so please prepare it for this Sunday. If you have registered but have not received it, please contact Pastor William Wong immediately: 647-809-2103 [email protected]
Praise the LORD for the resumption of the three Cantonese Sunday school online classes on April 25 & 26 with about 46 students! Please contact Maggie Kwok [email protected] for any enquiries to join future classes. On the other hand, ESC Sunday school "The Book of James" will be incorporated into our Life Group gatherings starting in May as well.
Weekend Music Fun
At our sincere invitation, Hong Kong's famous "Music Seeds Garden" is offering SGBC schoolages children music activities for four consecutive Fridays and Saturdays hoping to provide families some fun and education. For information about "Music Seed Garden", please visit its website: http://www.musicseedsgarden.com/ All related fees have been sponsored by some loving brothers and sisters. The details of the event are as follows:
Learning classical music is fruitful and joyful. Music Seeds Garden brings children to learn Beethoven's music in fun and creative way. Would you like to drive, dive, picnic... play hide and seek with Beethoven?! Please come and join us!
Dates: May 8, 15, 22, 29 (4 lessons)
Time: Friday 10:30am - 11am
Age: 2.5 – 5 years old
Class size: 10-12 students (mandatory to attend all 4 lessons)
Online meeting does not have to be boring! It is an individual small music theatre! In this theatre, you can create sound effect along the story. You can be some of the story characters, sing and express your views. You can also be a story composer creating a unique story line.
Dates: May 9, 16, 23, 30 (4 lessons)
Time: Saturday 10:30am - 11:15am
Age: 6 – 11 years old
Class size: 10-12 students (mandatory to attend all 4 lessons)
The above activities are in English and will be held on the Zoom online conferencing platform. No video recording is allowed during the class.
Enquiry: Mrs. Bernice Wu, Tel: 647-728-7643
Registration: Please inform the child's name and age by email and the parent's contact number
Email address: [email protected]
First come first served
New Opportunity for Outreach – Alpha Course Online
The impact of the epidemic on the world makes us feel that life is short and fragile. The OE Department hopes that brothers and sisters can seize the opportunity so that those who do not believe in Christ can hear the gospel and receive eternal and abundant life. Therefore, the church is preparing to launch the "SGBC Alpha Online". This course allows participating friends to explore the true meaning of life together in an open and friendly setting.
This event is held in Cantonese which includes watching short videos and group discussions. The OE Department is planning to start this course on June 3 and it will be held over video conferencing. We encourage brothers and sisters to invite friends and family to join us and spend a relaxing yet meaningful evening at home. For registration details, please pay visit the church website, or contact Elton Fung at the
OE Department: [email protected], (647) 547-3618.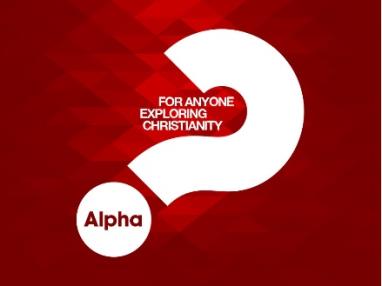 Community Care Campaign - "Love in Action" DIY Cloth Mask Report:
Praise the Lord, the campaign has had exciting developments in the past week! Our Outreach & Evangelism Ministry (OE) would like to share them with you:
Seamstresses recruitment and mask production have exceeded our original target! With the efforts of seven sewers, as of April 28, the total number of cloth masks produced was 903 pieces, and the team spirit is commendable. Now we have set a new target and expect to reach a production of 1500 pieces before the end of May!
With the efforts of the church-wide promotion, the response of nursing homes (9 institutions) and neighbors (35 people) applying for the cloth masks has also increased significantly. A total of 630 masks have been delivered promptly after their request!
Due to the request of the frontline medical staff, the team is now producing two more new equipment: Medical caps (see Image A) and Extension Ear Cord (see Image B). The shortterm goal is set at 200 pieces for each equipment!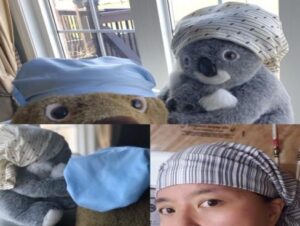 Image A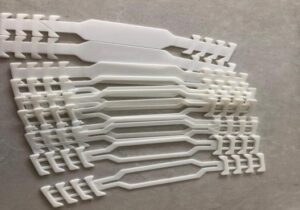 Image B
The KN95 masks (500 pieces) donated previously by a church member, have been sent out in full according to the needs in the community. They are Markham Stouffville Hospital ICU (250 pieces – see Image C), Carefirst Seniors and Community Service Association (120 pieces – see Image D) and our own members who are health workers.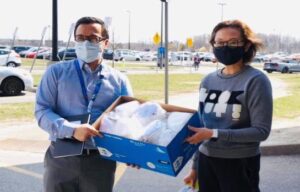 Image C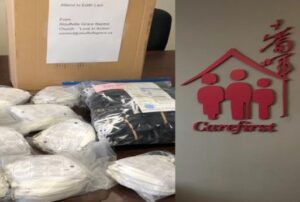 Image D
How do we participate and support of DIY cloth masks campaign?
As the usage rate of cloth masks increases, it will help to reduce the consumption of disposable surgical masks, which in turn will help to maintain sufficient supply of PPE for frontline medical staff. We are now collecting Surgical Masks that meet safety standards. Members are encouraged to donate freely with own discretion.
Please feel free to reach out to us at any time at:
Tel: 647-547-3618 (SGBC office: Connie Siu)
Email: [email protected] (Pastor William Wong)
Tithes & Offering – Online "Giving & Support" Launched
"Bring the full tithe into the storehouse, that there may be food in my house. And thereby put me to the test, says the Lord of hosts, if I will not open the windows of heaven for you and pour down for you a blessing until there is no more need." Malachi 3:10
In response to worship being held online, SGBC Financial Department has also arranged online offering and donations. Please visit the church website and click on "Online Offering" under "Give & Support" to make an offering: http://www.stouffville-gbc.org/onlineoffering/
If you want to donate by mail, please visit the church website and click on "By Mail" under "Give & Support" to make an offering: http://www.stouffville-gbc.org/bymail/
For more details about "Online Offering", please refer to "SGBC Family News 032720 OnLine Giving Instructions". For enquiries, please contact Deacon Terrance Yeung ([email protected]) or Brother Richard Ji ([email protected]).

Pray that this newsletter will help us walk in the Truth and face the trying times together! See you Sunday!
Rev. Hubert Wu
Senior Pastor
Stouffville Grace Baptist Church